If anyone could be given the accolade of being a self-made post-modernist superman in the world of popular entertainment then the unbackable favourite for such an accolade would have to be William Alan Shatner. Best known through his TV roles as a star ship captain, a veteran cop, an eccentric lawyer amongst dozens of other roles, as well as being a song stylist, writer, horse trainer and all round entertainer Shatner has taken self-aware parody and a congruent earnestness to levels never seen in contemporary pop culture. Denigrated as a has-been, he records an album of theatrical white-man rap backed by the incredibly credible Ben Folds called 'Has Been'. Defined by his iconic status as Captain James T Kirk (the original and still the best) in 'Star Trek', he not only ran towards the type-casting he also undermined it with roles in movies such as 'Free Enterprise', or poking fun at his fans with the famous "Get a life…" sketch on 'Saturday Night Live'. The man cannot be separated from the act, and yet his act is not necessarily the sum of the man.
Now I will freely admit that my interest in William Shatner is almost exclusively based on his role as Kirk on 'Star Trek'. I've seen his performance as Bob Wilson in 'The Twilight Zone' classic episode "Nightmare at 20,000 Feet", and some other incidental movie roles. I was not particularly interested in 'TJ Hooker' (although I do pride myself on my trivial knowledge of who was his lead male co-star in that show…and the answer is Adrian Zmed), and his work in the role of Denny Crane in 'The Practice' then 'Boston Legal' has mostly slipped me by.  Like any Shat-man fans I love listening to his truly unique recitation of the songs 'Mr Tambourine Man' and 'Lucy In The Sky With Diamonds' on his classic album 'The Transformed Man', and I still recall watching with great hilarity his take on 'Rocket Man' from the 1978 Hugo Awards.
I've both volumes of his 'Star Trek' memoirs and there was a rather intriguing TV show some years back called 'Invasion Iowa' that perhaps gave us the best insight into Shatner the performer; this was a favourite of mine from the later Shatner oeuvre. I couldn't tell you much about his other activities such as his horse breeding nor his charity work. It goes without saying that his professional career has been wide, long and varied in scope and I've but dabbled in watching it.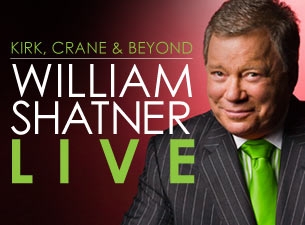 On reflection it would be incredibly hard to take some of this body of work seriously if you didn't actually read or watch his off-camera discourse on these adventures in the world of film, television and music. Or taking into account his classical training as a theatre actor, his accomplished legacy of working with many greats of stage, screen and recording studio. You don't reach the level of popular appeal he has by being a simple one line running gag, nor can his 50-odd year place in the public eye be seen as a stable career of excellence and artistic integrity. For every Emmy Award winning performance as Denny Crane there has been a B-grade movie role or a TV commercial which has shown Shatner happy to flog himself as a mouthpiece for whoever will pay his way. So the question is, how can such a confusing melange of genius and banality, of self-referential piss-taking and brutally keen seriousness about his craft and his life experiences be all mixed up in the one Canadian celebrity? Is William Shatner utterly egotistical (as perhaps feuding 'Star Trek' co-stars George Takei might contend)? Or is the man behind James T Kirk a contradictory cultural phenomenon that no one including the man himself can get a hold on?
I don't know if I got any definitive answers from his presentation 'William Shatner Live: Kirk, Crane and Beyond' which I took in on the evening of Tuesday April 5th at Sydney's State Theatre, but I sure as hell found the man on stage to be utterly engaging and entertaining. Over the course of an almost three hour interview/recitation/comedy routine/confession/self-serving celebrity roast William Shatner ranged from the unaware comedian, saying and doing things that raised as big a laugh as one could expect from perhaps a Mr Magoo come to life, then with a knowing inflection of his words, a cutting remark to his interlocutor Jonathan Biggins, or a simple change of posture the audience were signaled this was one big act from the great man. Not afraid of a self-deprecatory insight he dangled like a worm on a hook for his audience to swallow, hook line and sinker, there was also some rather pointed remarks about the environment, education, friendship and most affectingly addiction. One minute he was regaling his fans with stories of being held in a crushing grip of the testicles thanks to a sign language capable gorilla, then the next he was recounting the story of the death of his previous wife under the most tragic of circumstances. The presentation had a strange mix of embarrassment and guffaws, self-induced exorcism and hammy silliness, perhaps drawing a look on many an audience member's face mirrored in this classic look of bemused exasperation from Shatner as Kirk:
The moments that we came perhaps closest to Shatner at his most truthful were in those times when he spoke about himself with self-deprecatory comments, remarking upon his willingness to take almost any job available, his thankfulness at being cast as 'Star Trek's' Kirk, and his effusive praise for his friends. His discourse on matter environmental were a little too naive, a little too simplistic and it was disingenuous to plead ignorance over the feud he has been part of with most of the other cast members from 'Star Trek'. A more critical observer would have preferred real insight, or perhaps less happily a rant that whilst not pleasing could have been more honest. However to expect more from William Shatner is unreasonable; he was there to make people engage with him first and foremost, not reflect on the capabilities or flaws of George Takei.
At show's end there came one final masterpiece of Shatner-esque post-modern strangeness. No doubt inspired like so many other overseas celebrities to somehow connect with an Australian audience by going straight to the old trick of performing a local classic, William Shatner sang/rapped/declaimed the Men at Work classic 'Down Under'. It was as if the same man who had taken on Cyrano de Bergerac followed by 'Lucy in The Sjy With Diamonds' was now channeling a significant phase in Aussie pop culture. To top it off he merged this worldwide Australian song performed in his own inimitable manner with Gough Whitlam's oration from the sacking of the Federal Labor government on 11th November 1975. There was something hilarious yet compelling watching Bill in only a few moments give all his mock-Shakespearean acting skill to a line such as "…he just smiled and gave me a vegemite sandwich", then scant seconds later recite historical words like "Kerr's curr" and "…God save the queen, because nothing will save the Governor-General". If he hadn't won over his already compliant fans by now at Sydney's State Theatre he never would.
So where does this leave me when contemplating William Shatner? He'll always be 'my' Captain Kirk from 'my' Star Trek'. He will also always be a seriously funny man who has achieved more than one could possibly expect considering his self-evident flaws as a performer. Perhaps he could be considered to be a walking celebrity Peter Principle, having reached the level of his incompetence and made that his successful career schtick. Maybe I'm being harsh; he has given so much amused or addicted joy to cynics and geeks alike. Ultimately William Shatner is not Kirk, not Crane, not Hooker or the Transformed Man. William Shatner is just that…the one and only Shat-man.